The Chain Real Estate Team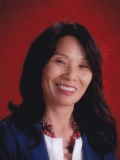 Rachel Chen Dressel - Agent
Rachel Chen Dressel is passionate and responsible. She understands the local culture perfectly after living in California nearly 30 years. She serves her customers wholeheartedly with excellence and professional skills. Ms. Chen is fluent in Mandarin, Taiwanese, and English. When looking to make your next investment, be sure to call Ms. Chen.